WANTED PERSON – Jeannie Grey
Jeannie Grey W/F DOB/11-18-1983
AKA – Jeannie Rampersaud and Jeannie Giordano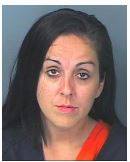 Height –5'02"
Weight – 145
Hair – Brown
Eyes – Brown
One Warrant
Violation of Drug Offender Probation
Possession of Personal ID Information
No Bond.
If you know the whereabouts of this subject (or have any information), please call the Hernando County Sheriff's Office at 352-754-6830. If you would like to remain anonymous or be eligible for a reward, please call Crime Stoppers at 1-866-990-TIPS (8477). To submit a tip on line, please visit
http://www.hernandocountycrimestoppers.com .